Elm trees are growing again in Providence's North Burial Ground thanks to Forest Hills Nurseries of Cranston. The tree donation was an unexpected add-on to one of my bucket-list items: I wanted to plant a tree to Providence -- but not just any tree -- a good-sized copper beach that would outlive me.

About 30 young elm seedlings of the cultivar, Discovery Elm (Ulmus davidiana Japonica), which is resistant to Dutch elm disease, were offered to North Burial Ground when a Providence resident bought a copper beech from Forest Hills Nurseries to donate to North Burial Ground in May of 2005.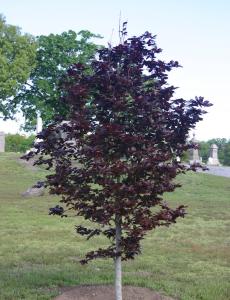 The donated beech tree was planted in May 2005 within the North Burial Ground fence, across from the Armory of Mounted Commands on North Main Street in Providence. The European copper beech tree is expected to have a height some day of more than 80 feet, and a spread of 50 to 70 feet. Today, the beech tree is thriving and on its way to the heights.
The elms donated by Forest Hills Nurseries will be graceful and prominent additions to the North Burial Ground. Over the years, many trees have died and were not replaced. Many of the existing trees at North Burial Ground are in poor condition.
In 2004, several tree stewards from the Rhode Island Tree Council inventoried every tree at the burial ground, identifying the species and describing the size and general health of the trees. The inventory is the basis for a master plan for North Burial Ground. Bradford Associates, landscape architects in Providence, is developing the master plan for the city-owned burial ground.
Anyone interested in donating trees for public spaces may contact:

Update: In 2017, RI Tree Council has a Trees Honoring Troops program.