Indoor Farming is also known as Vertical Farming.
Definition of Indoor Farming (Vertical Farming)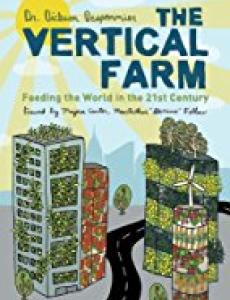 Based on the Wikipedia definition:
A method of growing food indoors in stacked layers, for instance, in a skyscraper, warehouse, or shipping container. It uses technology to control the amount of artificial light, humidity, temperature, etc. It also controls the amounts of fertilizers added to the water applied to the plants. Some vertical farms are similar to greenhouses, using natural sunlight to augment artificial lighting and metal reflectors.
This concept has been developed by Dickson Despommier, who wrote the 2011 book on the topic, The Vertical Farm: Feeding the World in the 21st Century.
Links
Rhode Island and Indoor Farming
This method of farming is particularly interesting to Rhode Islanders, since the state is so small. Several articles and reports give an overview:
Rhode Island has at least one instance of indoor farming in Central Falls: Acopia Harvest.
Lisa Raiola, who runs Hope & Main food business incubator in Warren, envisions using some of the I-195 reclaimed land in Providence for growing food indoors. ecoRI quotes her:
"'It would be model for all of New England,' she said. 'It would be an urban living space with agriculture. It would attract funding and tourism. Everyone would see it from the highway — a living-learning experiment that could be the future of local food.''